Ban the Toxic 12 - now
We have identified the 12 most toxic chemicals still authorised in the EU. They should not be in our food and fields. They can either cause cancer, heart disease, lead to birth defects, seriously harm the environment or a combination of these. The EU has a regulation to substitute the most dangerous chemicals by less toxic alternatives. The EU Commission has committed to reduce the list of these chemicals by 50% in 2030. However, this means many more years of unnecessary exposure to very dangerous chemicals. So we want the Toxic 12 to go - now. And we're making progress: 2 of the 12 will be banned in 2024. So 10 more to go.
Background
Under the EU Pesticide legislation, the most hazardous substances to human health or the environment must be strictly regulated to ensure a high level of protection. They can only be authorised in pesticide products by Member States when no safer alternative exists. The alternatives can be chemical substances or non chemical methods. This 'substitution principle' has been mandatory for all EU Member States since 2015. By 2030, the EU is committing to cut by 50% the use of these most dangerous pesticides containing these substances as part of the Farm to Fork Strategy.
In this context, the substitution of these most hazardous substances should help the EU move toward a sustainable food system and a toxic free environment. Yet, this campaign reveals that substitution with a non-chemical alternative has not taken place since 2015. More hazardous pesticides are systematically granted an authorisation by Member States, which disregard the rules of substitution. As a result, recent studies show that European citizens, including the most vulnerable groups, remain significantly exposed to the EU's most hazardous pesticides, whether through their food or in their environment.
Recent studies show that European citizens, including the most vulnerable groups, remain significantly exposed to the EU's most hazardous pesticides, whether through their food or in their environment. 
In total, 50 of these most hazardous substances are still approved in the EU and found in hundreds of pesticides products (updated on 08.06.2023). These substances are suspected of causing one or more severe impacts on human health, such as cancer, birth deformities or heart disease - or to be toxic to wildlife.
Our work
We have created a database on the 50 most hazardous substances approved in the EU. The file includes detailed information on their toxicity to humans and the environment, and the level of exposure of consumers. In March 2023 the EU decided to ban 2 of them from 2024 onwards, and in May 2023 another ban was decided. So there are now 50 to go. This is good news, but the progress is too slow and the substitution rules are still ignored by Member States.
We have identified the 12 most toxic chemicals for which we and our partners in the campaign demand an immediate ban:
Not on our original Toxic 12 list, but found to be a very persistant PFAS
The other demands of the campaign and the partners can be found in our campaign manifesto. This campaign is being run jointly with PAN Europe's member organisations: Earth Trek, Ecologistas en Acción, Ekodizaina kompetences centrs, Générations Futures, Global 2000,  Justice Pesticides, Mouvement écologique, Nature & Progrès Belgique, PAN Germany, PAN Netherlands, ZERO.
Forbidden Fruit report
In our report 'Forbidden Fruit', we revealed that EU consumers are increasingly exposed to residues of these most hazardous substances in fruits and vegetables grown in the EU. This exposure has risen by 50% for fruit between 2011 and 2019 and by more than 100% for products such as apples and pears.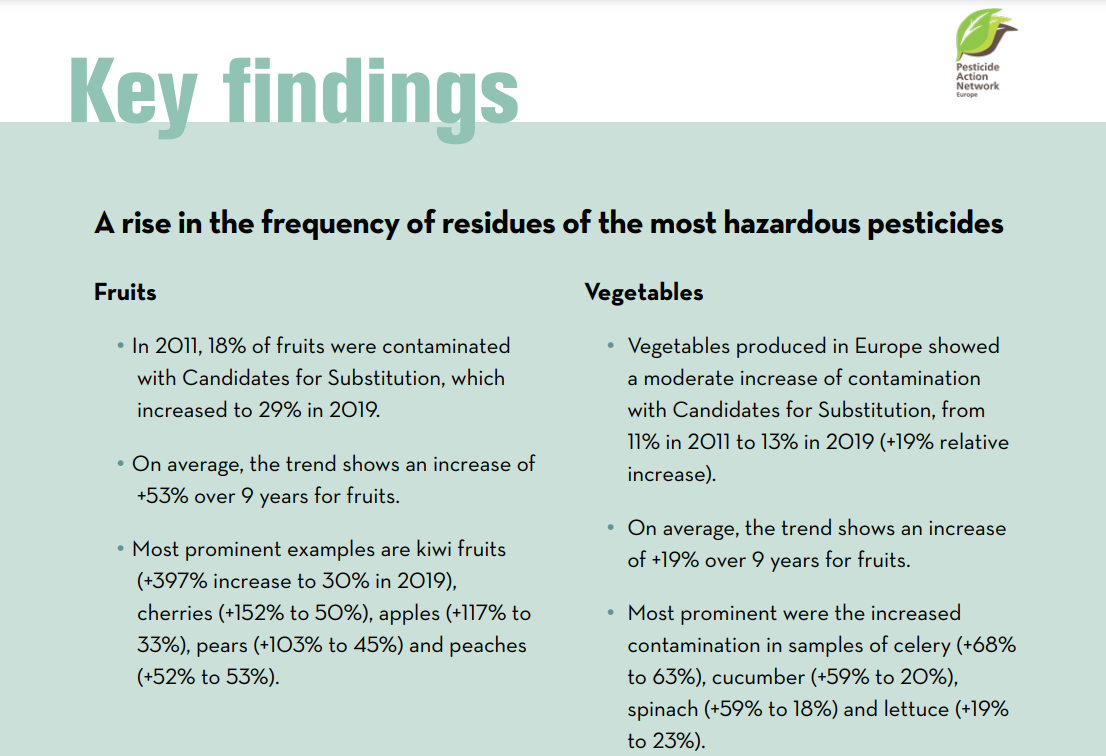 With this campaign, we have undertaken long-term research on the drivers of the persistent presence of these most toxic substances in our environment and our plates. 
In our report 'Pesticide paradise', we showed that the reason why EU citizens keep being exposed to these most toxic substances is not the absence of alternatives to these most toxic substances but their downgrading during the substitution assessment. This report also documents and makes public the presence and influence of the pesticide industry at all stages of the elaboration of the substitution rules. 
We have sent our recommendations to the Commission on how to ensure that the substitution principle finally becomes effective, and that Member States start better protecting citizens and the environment while promoting sustainable crop protection. 
In Belgium, we are going to court to challenge the authorisation of two insecticides containing cypermethrin (one of the Toxic12). Belgium has not carried out a comparative assessment of alternatives and is therefore in violation of European substitution rules.
The EU decided on March 23, 2023 to ban two very toxic chemicals Ipconazole and Oxamyl. They are banned because they have been proven to be too dangerous. So they were not substituted, but banned. The same happened on May 24, 2023 with the fungicide Dimoxystrobin.
Relevant blogs & articles: 
Contact:  Salomé Roynel, Policy & Campaign Officer, +32 2 318 62 55, salome [at] pan-europe.info