Since 2011, the most toxic pesticides to human health, wildlife and the environment are subject to very strict rules, to be quickly banned from EU fields and from consumers' plates.
Among other things, these pesticides can alter the reproductive system, cause hormonal disruptions resulting in various cancers, developmental disorders and/or cardiovascular problems. Some are more toxic to wildlife, but most combine several of these adverse effects.
In this context, their ban must have been the first priority for public authorities to better protect EU citizens and the environment. This campaign reveals quite the opposite! Far from decreasing, the exposure of European citizens to these substances has actually risen over the last 10 years:
53 most harmful pesticides are still authorized in agricultural fields, leaving farmers, residents & bystanders and the environment directly at risk.
Consumer exposure to one or several of these pesticides has increased by more than 50% in ten years.
We have identified the 12 most toxic chemicals that should be banned immediately:

The last 2 will be highlighted during the next two weeks
Member States failed to meet their legal obligation to ban these pesticides. Instead, they have constantly prioritized the interests of agribusiness over the protection of our health and that of the environment.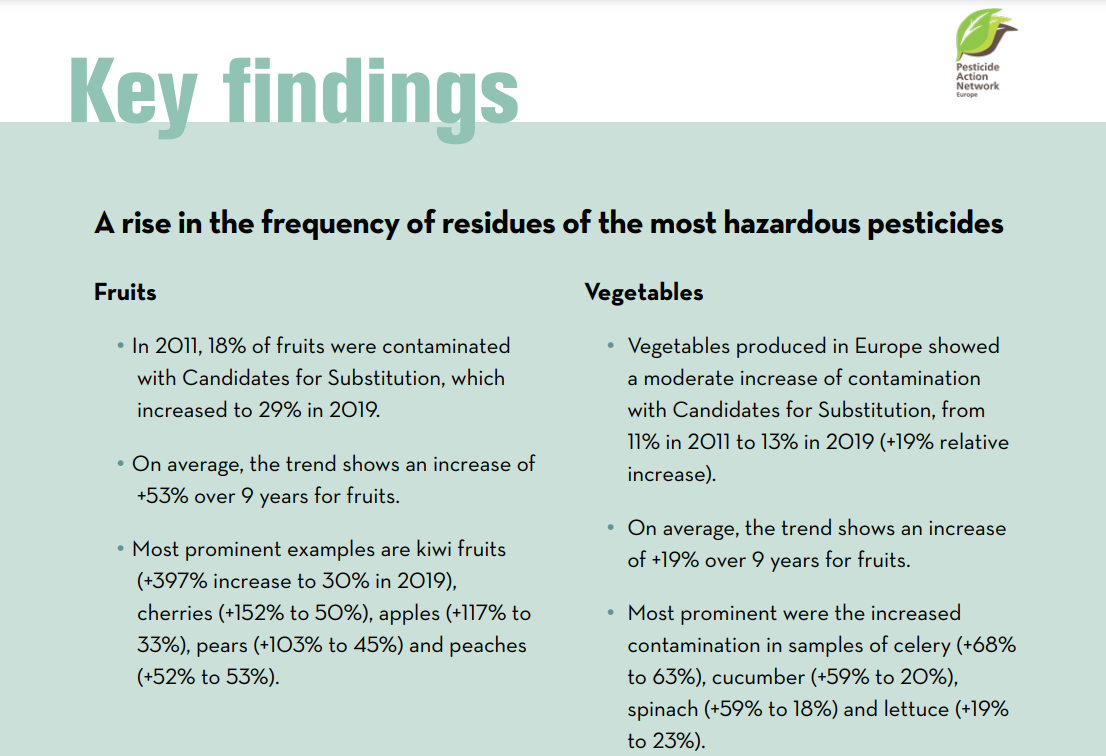 Manifesto: Campaign Ban Toxic 12 Manifesto
Database: Candidates for Substitution
Report: Forbidden fruit: The dramatic rise in dangerous pesticides found on fruits and vegetables sold in Europe and evidence that governments are failing their legal obligations
Report: Pesticide Paradise: How industry and officials protected the most toxic pesticides from a policy push for sustainable farming
Press Release: A new campaign denounces the increasing presence of 55 most harmful pesticides on the EU market​