Type: Insecticide (pyrethroids).
Health Hazards: A range of hormone-related adverse effects (e.g., reduced male fertility, altered hormone levels and gene expression). The European Joint Research Centre (JRC) considered cypermethrin a full endocrine disruptor in 2016. Developmental Neurotoxicity Study also showed effects, but more studies are needed to understand the impacts (e.g., possible relation to Parkinson's disease). In addition, the review of Marettova 2017 points at the wider group of pyrethroids with neurodevelopmental, reproductive, and immunological effects that may result following exposure to some pyrethroids at levels below those that induce overt signs of neurotoxicity. Pyrethroids are endocrine disruptors that reduce steroid hormone levels and cause reproductive damage. Cypermethrin is among the pyrethroids causing the most severe damage.
Environmental Hazards: Cypermethrin is a bee-killer, and highly toxic for aquatic and soil organisms. With continued use, a reduction to safe levels is not possible according to EFSA due to insufficient mitigation measures (spray drift reduction).
Exposure: Authorised in 27 member states (AT, BE, BG, CY, CZ, DE, DK, EE, EL, ES, FI, FR, HR, HU, IE, IT, LT, LU, LV, MT, NL, PL, PT, RO, SE, SI, SK).
Residues: Found in peaches, lettuce, spinach, and tomatoes.
Regulatory State of Play: Following 6 years of approval extension, EU re-approval was granted in February 2022 for 7 years - until 2029. 
Use: Applied as a spray on the fields, such as cereal crops, oilseeds and potatoes. It is also used against a broad spectrum of pests, especially Lepidoptera. 
Alternatives: Crop rotation to prevent accumulation of the insects in the soil. Avoiding fields previously used as meadows. Extensive soil cultivation to expose the insects to the sun. Monitoring of the soil (feromone traps). If intervention is needed: thuriengiensis or spinosad are the options.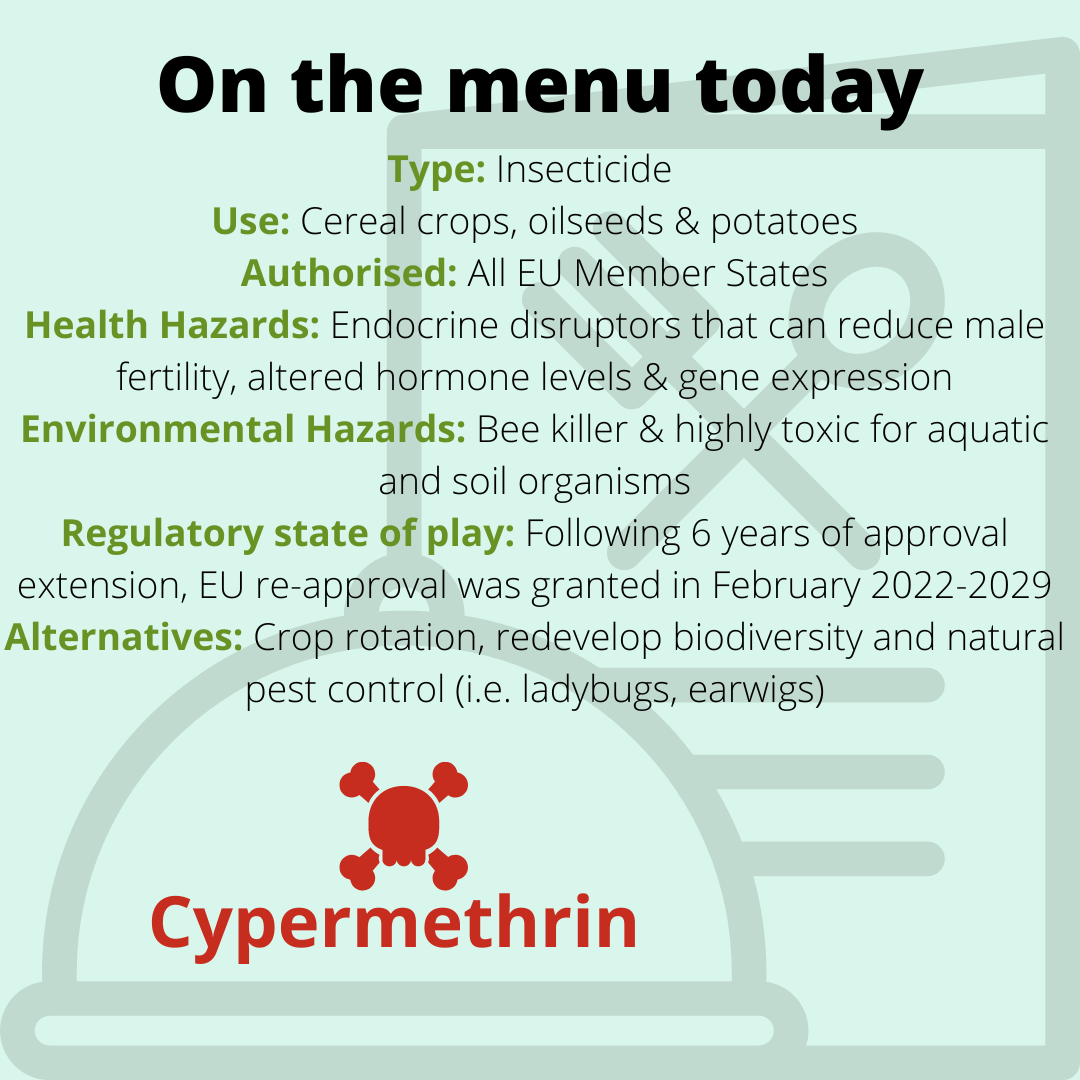 Press Releases: First EU anti-pesticides legal challenges: PAN Europe takes advantage of the recently revised Aarhus regulation