THE USE OF PESTICIDES IS NOT DECREASING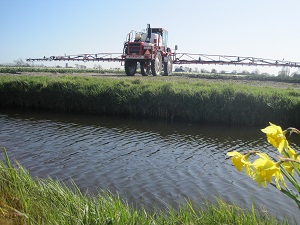 The use of pesticides on average in Europe did not decrease in recent years despite much debate on the sustainability of agriculture and despite the entering on the market of pesticides that can be used at low dose. It can be inferred that due to increasing resistance of organisms and plants to pesticides the use has increased while the introduction of non-chemical methods and practices remained at a low level. 
In 2016 almost 400,000 tonnes of pesticides were sold in Europe, with the vast majority used in the agricultural sector.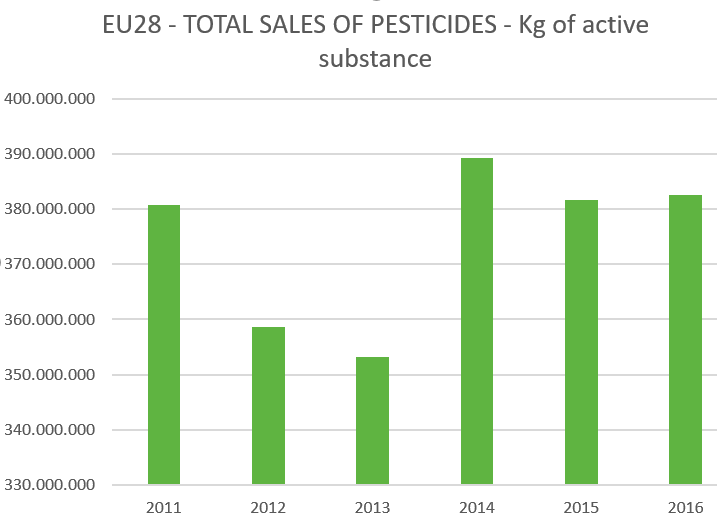 See the data collected by Eurostat on pesticide sales>>
The recent report from the European Commission concerning statistics on pesticides, it is acknowledged that "pesticides are a cause of pollution and have a direct effect especially on the state of biodiversity, water bodies, and soils. To ensure that these impacts are addressed appropriately, it is essential that policymakers are able to quantify the risk and the level of pesticide pollution. This would also aid the better implementation of existing environmental policy tools and serve to identify the remaining policy gaps for addressing the environmental pressures caused by pesticides. Currently, the policies concerned by the data needs are the EU Biodiversity Strategy 2020, the common agricultural policy (CAP), the Water Framework Directive, and the Thematic Strategy on Soils."
INDUSTRIAL AGRICULTURE RULES
Industrial agricultural rules in many European crops and countries. This is illustrated in the Table below showing that for instance in Dutch onions on average farmers use 42 different active pesticide substances!  These onions are on average sprayed 21 times in a year, meaning that the onions are sprayed more than once a week with a cocktail of pesticides. The same goes on for Italian apples and Italian wine grapes. The total number of different pesticides on Italian wine grapes is even 56. Cocktails of pesticides again are used as a standard procedure, indicating growing resistance against pesticides. For many other European big crops the same picture can be observed.
Average use of pesticides, sample taken in 8 EU-MS
| | | | |
| --- | --- | --- | --- |
|  EU Member State/crop  |  Average No of pesticides used  |  Average spraying frequency  |  Main pesticide type sprayed  |
| NL oignons | 42 | 21 | Herbicide/fungicide |
| IT apples | 41 | 26 | Fungicide |
| IT wine grapes | 38a | 14 | Fungicide |
| UK apples | 37 | 17 | Fungicide |
| NL potatoes | 36 | 19 | Fungicide |
| NL lettuces | 30 | 9 | Fungicide/insecticide |
| BE potatoes | 29b | 13 | Fungicide |
  a Total No of pesticides used in wine grapes: 56; b Total No of pesticides used in BE potatoes: 42
 Source: EFSA, 2015 http://www.efsa.europa.eu/en/supporting/pub/846e
OUR DAILY COCKTAIL OF PESTICIDES
The massive use of pesticides in fruit and vegetables and the cocktails applied are reflected in our food. Currently 27% of all fruit and vegetables contain multiple residue (cocktails of pesticides); a bucket of strawberries or a bunch of grapes could easily contain 10- 15 pesticides. Also the maximum number of pesticides found in one food item is at the almost unbelievable level of 28 as is shown in graph below. European consumers will be exposed to a daily dose of pesticide cocktails as a consequence.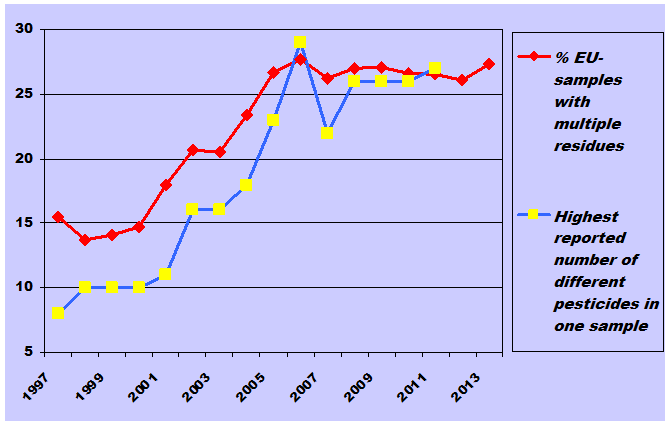 In 2013 the percentage of multiple residues in European vegetables and fruit increased again to the extreme high rate of 27,3%. Unfortunately EFSA stopped publishing the data on the highest reported number of different pesticides in one sample.
NATURAL LIFE PUSHED BACK TO EXTINCTION
As a consequence of the industrial agriculture no place is left for natural life. Monocultures from maize, grass, potaties, bulbs, massive use of pesticides and fertilizers make life for animals and herbs impossible. Food (insects, seeds) is not available anymore or poisoned, place to shelter (hedges, trees, buffer zones) gone and crop growing will take all place available. Birds, mammals, bees and all natural life has more or less disappeared in the agricultural areas, like the Skylark, for ages an abundant bird in the European fields and now threatened to extinction (see graph).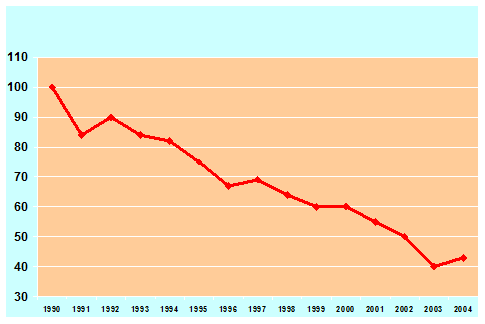 Number of skylarks in the Netherlands (1990 = 100%)
BEST RULES IN THE WORLD BUT WHAT ABOUT IMPLEMENTATION?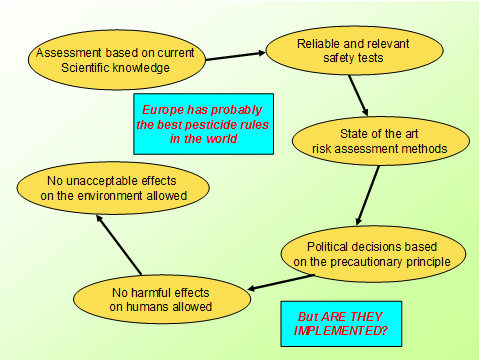 TOPICS
2. Use of science in EU risk assessment
4. Cumulative and synergistic effects of pesticides
For more information, please send an email to: hans [at] pan-europe.info