1 Million valid votes for Save Bees and Farmers - make them count!
The European Commission welcomed the successful Save Bees and Farmers citizens initiative. The demands resonate in two legal proposals that currently cause heated debate in the EU Parliament and Council: the pesticide reduction law (SUR) and the Nature Restoration law. The decisions will be taken end of 2023, early 2024. So your voice needs to be heard again to keep the pressure. Now is the time to act to protect health and biodiversity and to shift towards sustainable agriculture an healthy food. Please take a few minutes to write an email to Members of the EU Parliament now:
Formal answer by EU Commission
Official green light to Save Bees and Farmers ECI
1,2 Million European Citizens voted for an end to the toxic pesticide era, for restoration of biodiversity and rewarding farmers to work with nature. Out of these votes 89% - 1,1 Million - were validated by the authorities: name, address of residence, date of birth or ID number matched with the official registration. Eleven countries reached the minimum threshold. So the criteria for a successful ECI were met: over 1 Million valid votes from at least 7 countries that reach the minimum threshold.
The citizens initative was organised by Générations Futures (France), Global 2000 (Austria), Aurelia Stiftung, BUND and the Umweltinstitut München (Germany), Romapsis (Romania) and the European organisations Beelife, Friends of the Earth Europe, Pesticide Action Network PAN Europe, Slow Food International and the European Professional Beekeepers Association. It was supported by over 200 organisations from all countries in the EU, including the campaign organisations Avaaz, Campact, Pollinis, SumofUs and WeMove.
The initiative is now formally recognised. The EU Commission has invited the organisers to present their demands on November 15. Next a hearing will be planned in the EU Parliament.
We will update this page as soon as we know more.
Key demands
A phase-out of the use of synthetic pesticides: By 2030 the use of synthetic pesticides shall be gradually reduced by 80 percent in EU agriculture. By 2035, agriculture in the entire Union shall be working without synthetic pesticides.
Measures to recover biodiversity: Habitats shall be restored and agricultural areas shall become a vector of biodiversity recovery.
Support for farmers: Farmers must be supported in the necessary transition towards agroecology. Small, diverse and sustainable farms shall be favoured, organic farming expanded, and research into pesticide-free and GMO-free agriculture will be supported.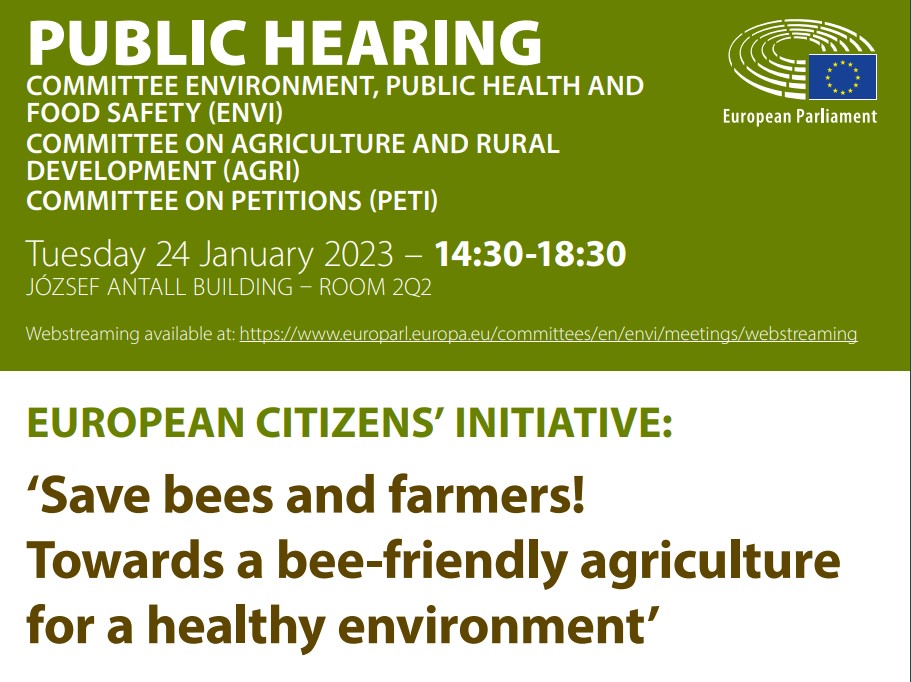 Programme & Livestream here.