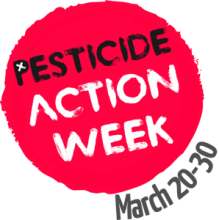 NEW! Pesticice Action Week will be celebrated in 2019 with the annual theme "Biodiversity"
PAN Europe supports and participates in the  Pesticide Action Week - a grassroots initiative orchestrated by Générations Futures, Pan Europe member organisation in France, taking place during the first ten days of every spring (20th-30th of March) when usually the spraying of pesticides resumes. Pesticide Action Week has been a powerful force for awareness-raising and action for a pesticide free Europe. Every year, hundreds of citizens, associations, farmers, companies, teachers, local governments organise wide range of events: conferences, film screenings, theater shows, open door days, organic cooking classes, exhibitions, workshops, information booths, farmer markets, community organic meals, etc. 
The public is invited to get better informed about the health and environmental challenges caused by pesticides and learn more about alternatives  by taking part in one of the hundreds of organised activities.
Through PAN Europe's involvement, this movement is now reaching beyond France to other European countries. PAN Europe has been assisting organisations from Central and Eastern Europe.  Key documents have been translated into Bulgarian, Croatian, Slovenian, Slovakianand Armenian, and local initiatives have been supported.
In 2018, the Pesticide Action Week was back with its 13th edition from March 20th to March 30th 2018. The 13th edition focused on food issues. For info on organised events and partner organisations check out www.pesticideactionweek.org. PAN Europe has been active in this 13th edition, with its Pesticide Free Towns campaign, also celebrating World Water Day during these 10 days of action by raising awaressness on pesticide pollution of drinking water. Press Release: World Water Day: How politicians are allowing our water to be contaminated with pesticides, 22 March 2018
Focusing this year mainly on Pesticide Free Towns Campaign, PAN Europe has extended its pesticide free towns network by welcoming cities in Italy, including the city of Bolzano. The overall aim of the Pesticide Free Towns Network is to bring together a critical mass of towns committed to phasing out pesticide use and provide a European platform of mutual support and experience, practice and knowledge sharing. The Mayor of Bolzano, Renzo Caramaschi, together with the Assessor for the Environment, Maria Laura Lorenzini, has strongly supported this adhesion as a natural continuation of their successful environmental policy: "We have joined the Pesticide Free Towns Network because we believe that it's necessary to take any action in order to protect citizens's health. For this reason since 2016 the Municipality of Bolzano has banned the use of glyphosate ", said Lorenzini. The meeting aimed to attract interest from the neighboring Municipalities, hoping that they will decide to follow this good example by banning the use of chemical pesticides in their green areas. Press Release: City of Bolzano commits to become pesticide-free, 23 March 2018
In previous years, PAN Europe organised various activities. For the 12th edition of Pesticide Action Week in 2017, read our special edition Newsletter on Pesticide Action Week to learn about PAN Europe's and its members' activities during these 10 days full action!