Letters
Letters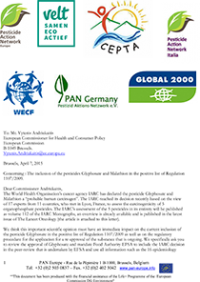 April 2015
Letter to Commissioner Andriukaitis on Glyphosate
Concerning : The inclusion of the pesticides Glyphosate and Malathion in the positive list of Regulation 1107/2009.
Dear Commissioner Andriukaitis,
The World Health Organisation's cancer agency IARC has declared the pesticide Glyphosate and Malathion a "probable human carcinogen". The IARC reached its decision recently based on the view of 17 experts from 11 countries, who met in Lyon, France, to assess the carcinogenicity of 5 organophosphate pesticides. The IARC's assessment of the 5 pesticides in its entirety will be published as volume 112 of the IARC Monographs, an overview is already available and is published in the latest issue of The Lancet Oncology (the article is attached to this letter).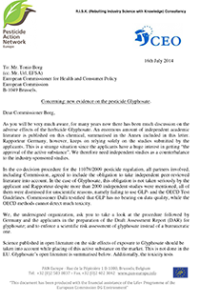 July 2014
Letter to Commissioner Borg on Glyphosate
Dear Commissioner Borg,
As you will be very much aware, for many years now there has been much discussion on the adverse effects of the herbicide Glyphosate. An enormous amount of independent academic literature is published on this chemical, summarised in the Annex included in this letter.  Rapporteur Germany, however, keeps on relying solely on the studies submitted by the applicants. This is a strange situation since the applicants have a huge interest in getting "the approval of the active substance". We therefore need independent studies as a counterbalance to the industry-sponsored studies.