On September 29th, 14:30-16:30 the online parliamentary event on "Hazardous Pesticides and EU's double standards" took place, hosted by MEP Eric Andrieu (S&D), MEP Anja Hazenkamp (GUE/NGL) and MEP Michèle Rivasi (Greens/EFA), and organised by PAN Europe and Public Eye.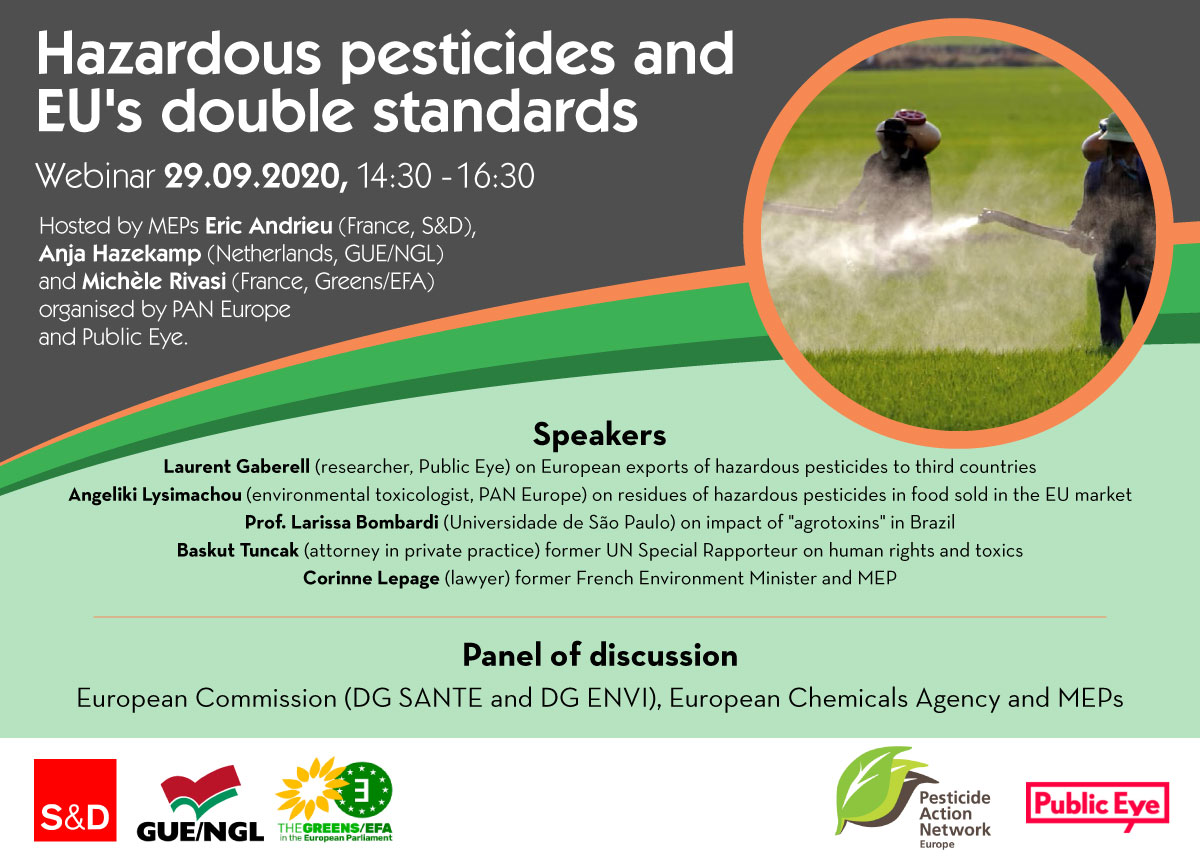 Background:
There is a growing concern by European Citizens about the use of hazardous pesticides in food production and their impact on human health and biodiversity, globally. This event aims to present and bring to the debate the issue of European exports of hazardous pesticides that are banned in Europe or their use is severely restricted, which are often detected in food sold in the European market. A debate panel with the Commission (DG ENV and DG SANTE), the European Chemicals Agency and Members of the European Parliament will take place to discuss the role of the EU and potential political solutions. 
Languages: English/French
Webinar Programme & Presentations
14.30 Introduction by Eric Andrieu, Member of European Parliament and Angeliki Lyssimachou, Pesticide Action Network Europe.
14.35 -15.20 First Panel : Hazardous Pesticides and EU's Double Standards
▪ Banned in Europe: How the EU exports pesticides too dangerous for use on its own fields, by Laurent Gaberell, Agriculture & Food expert at Public Eye.
▪ The use of pesticides in Brazil: environment and childhood under attack, by Larissa Bombardi, Professor at the University of São Paulo.
▪ Residues of EU-banned pesticides in European food, by Lysimachou Angeliki, toxicologist and Science Policy officer at Pesticide Action Network Europe.
Questions & answers
15.20 – 15.40 Second Panel : What are the political solutions?
▪ Human rights implications of pesticides exports, by Baskut Tuncat, UN Special Rapporteur on Human rights and hazardous substances and wastes (2014-2020).
▪ French law and the validation by the Constitutional Council of the primacy of the right to life over entrepreneurial freedom, by Corrine Lepage, environmental lawyer, former Minister of the Environment in France and former MEP.
15.40 – 16.20 Panel of discussion
▪ Dr. Juergen Helbig, International Chemicals Policy Coordinator, DG ENV.
▪ Remi Lefevre, PIC Team Leader, European Chemicals Agency (ECHA).
▪ Klaus Berend, Head of Unit, Pesticides and biocides, DG SANTE.
Questions & answers
16.20 -16.30 Conclusions by Eric Andrieu, Anja Hazekamp and Michèle Rivasi, Members of the European Parliament. 
WATCH webinar highlights (video) >>
WATCH full webinar recording (video)>>